About Just Breathe Aerials
It all began in a garage back in 2016. Many successful companies began in a garage such as Disney, Microsoft, Amazon, and Google. It's a pretty good place to start. Lori Aragona thought so too. AntiGravity® Fitness, founded in 1991 by world-class gymnastics specialist and Broadway aerial choreographer Christopher Harrison, caught her eye when searching for a low impact exercise that was both healing and fun. Lori's husband, Carmen, setup the necessary beams in order to support six Harrison AntiGravity® Hammocks. After Lori completed her AntiGravity® Fundamentals 1 & 2 Certification, she opened her garage for classes. There is a specific breathing technique required to obtain the full benefits of poses, and Lori would cue "just breathe" to her students, thus she named her business Just Breathe Aerials. Week after week her classes began to fill, and it didn't take long before her classes had waitlists.
After seeing photos on Facebook, a friend of Jennifer Wiggins asked her to come and try out an Aerial Yoga class. The two of them went and Jennifer fell in love. After a few weeks of going to classes, Jennifer noticed how popular it was becoming, and how many classes now had waitlists since there were only six hammocks available. Jennifer has a background in Business and Marketing, and runs her company Clear SEM Solutions here in Port St. Lucie. She and Lori became friends, and Jennifer shared many ideas about how to get the business running. Jennifer helped Lori move the business out of her garage and into a studio. Together, they got the business setup and running. Over the course of the next year, the business really began to grow, and Lori obtained several additional AntiGravity® Certifications in order to add even more classes. Lori and Jennifer would occasionally meet and share business ideas. In 2018, Lori asked Jennifer if she would officially be a part of Just Breathe Aerials as Co-Owner, and of course she said yes.
All of our instructors are Certified through AntiGravity® HQ. Our studio is a Licensed Silver AntiGravity® studio, the only in Florida, which allows us to also provide instructor training.
In early 2020 we expanded to a new location to offer traditional yoga classes and provide our community the best of both AntiGravity® Fitness and traditional Yoga.
Jennifer in Lori's garage 2016
Lori & Jennifer when studio opened
Lori
Co-Owner & Lead Instructor/Trainer
AntiGravity Fundamentals 1&2, Restorative, Suspension Fitness 1&2, Aerial Yoga 1&2, Pilates, Cocooning, AIRbarre Certified, One Star Teacher Trainer
Just Breathe Aerials
Jennifer
Co-Owner
Just Breathe Aerials
Amanda
Instructor, Studio Manager
AntiGravity Fundamentals 1 & 2, Suspension Fitness Certified
Just Breathe Aerials
Bruna
Instructor
RYT 200 Yoga Instructor Certified
Just Breathe Aerials
Carole
Instructor
E-RYT 500 Yoga Instructor Certified
Just Breathe Aerials
Carlos
Instructor
Just Breathe Aerials
Gina
Instructor
RYT 200 Yoga, AntiGravity Fundamentals 1 & 2 Certified
Just Breathe Aerials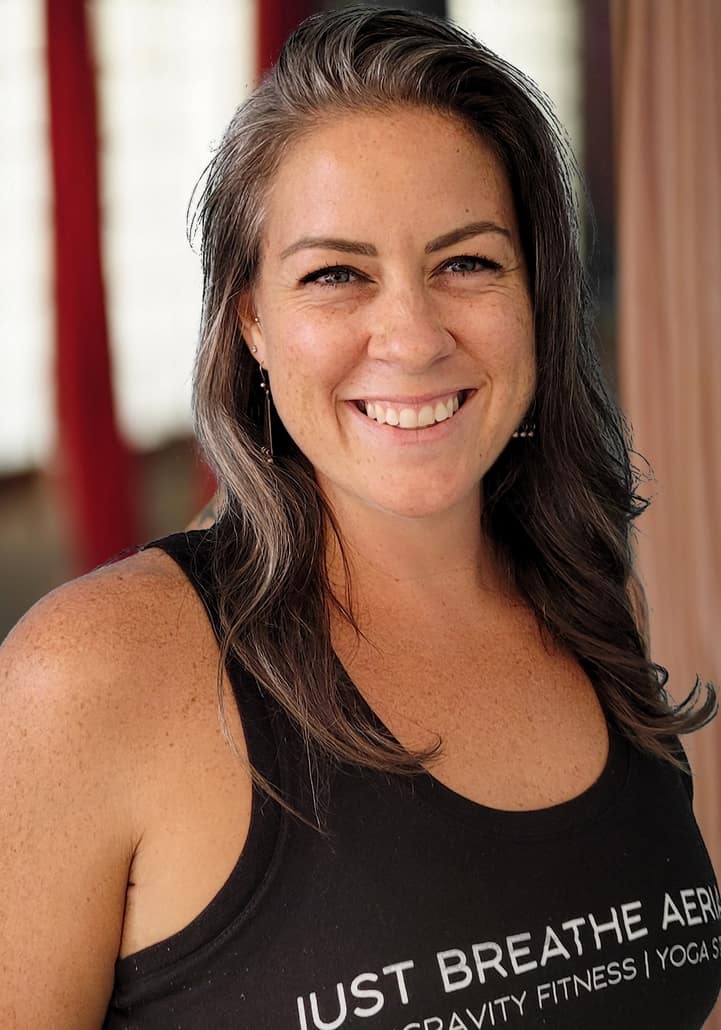 Jessica
Instructor
Just Breathe Aerials
Kerri
Instructor
AntiGravity Fundamentals 1 & 2 Certified
Just Breathe Aerials
Kimberly
Instructor
AntiGravity Fundamentals 1&2, Aerial, Mat Pilates, Advanced Mat Pilates, Group Exercise, E-RYT 200 Yoga Instructor Certified
Just Breathe Aerials
Kim
Instructor
Just Breathe Aerials
Lacey
Instructor
AntiGravity Fundamentals 1 & 2 Certified
Just Breathe Aerials
Liz
Instructor
Just Breathe Aerials
Maritza
Instructor
Just Breathe Aerials
Mike
Instructor
Just Breathe Aerials
Olga
Instructor
Just Breathe Aerials
Patricia
Instructor
AntiGravity Fundamentals 1 & 2 Certified
Just Breathe Aerials
Rebecca
Instructor
AntiGravity Fundamentals 1 & 2 Certified
Just Breathe Aerials
Roz
Instructor
Just Breathe Aerials
Shelli
Instructor
Just Breathe Aerials
Tara
Instructor
Just Breathe Aerials
Tina
Instructor
E-RYT 200 Yoga Instructor Certified
Just Breathe Aerials